FACTS
Teaches Proper Weight Transfer
Free members to only online training website
Patented Product
5 Year Warranty 
Made 100% in the USA with USA Steel
SOFTBALL TOE TUNNEL
The Softball Toe Tunnel is an accessory to the Softball Power Drive which trains pitchers not to drag their heel as they drive off of the rubber. This is a great training tool for those pitchers that have the habit of rolling over their ankle/foot to a heel drag position. Heel drag acts like a boat anchor reducing power from stronger lower body which reduces pitching velocity. The placement of the Toe Tunnel was designed specifically to be in front of rubber at toe touch point to ground and extends out where heel drag occurs. It locks into the Softball Power Drives US Patent mount channel. Two models were designed for age appropriate training and practice reinforcement. A Youth model and Collegiate model. The Youth design supports proper training for less experienced pitchers with a narrower, longer and higher design. This also supports a smaller foot size. The training area dimensions are 7″ L x 5 3/4″ W x 5″ H. The Collegiate model is designed for experienced pitchers with a lower profile, shorter length and larger width to accommodate a larger foot size. The training area dimensions are 5″ L x 6 1/2″ W x 3 3/4″ H. All Power Drive Performance training aids are designed through thousands of lessons to allow proper practice to learn skills to increase game performance. Toe Tunnels are made 100% in the USA of American produced steel. Both models are available in metal or turf for use with cleats. They both are available in silver or black colors and come with a 5 year warranty. The best to your training!
BUY
Pitchers Chalk Mats 
Pitchers Chalk Mats are designed with black turf for visual presentation of training and includes chalk for marking training points and written goals. The important pitchers stride line is highlighted with 4" of red turf, down the center of the mat. Step down rubber simulates game-like foot position. Teaches proper toe down mechanics for correct drive. Mat available in Foam Backing or Fleece Backing. Foam Backing  with skid pad is for hard surfaces such as wood, cement or tile.  Fleece Backing is made for indoor carpet or turf surfaces.
The Pitching Mats come in two sizes a 3X10 and a 3×3. 3'x3′ Mini mat is longer at 3 ft. vs. standard 24″-27″ mini mats. Extra foot adds more room for Power Drive and Toe Tunnel mounting, more Fastpitch toe drag area for visual measurement & increases mats anti skid contact floor surface.  Heavy duty 100% USA construction. Extremely thick and dense turf mat. Spike proof 36 oz. turf weight per square yard. Weight is 109 oz. per square yard with height of turf height at 3/4 inch. Built to last for all ages, youth through professional. 2 year warranty, unlike any other hitting mat in the industry.
BUY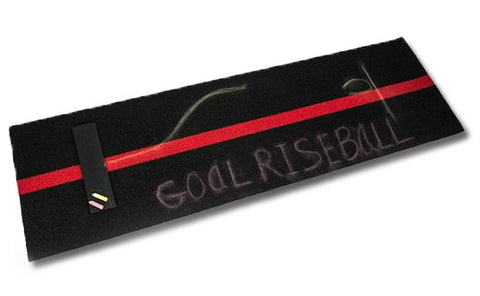 FACTS ABOUT MATS
Step down rubber
Extremely thick and dense turf
Foam Backing or Fleece Backing
sise 3X10 or 3×3
Heavy duty 100% USA construction
2 year warranty