Baseball Hitting Mechanics
Understanding proper baseball hitting mechanics requires an appreciation for the precise sequence of body movements. The fusion of linear and rotational actions holds the key to unlocking powerful swings. This choreography commences with a solid load, yet the real magic lies in the subsequent motion. The back knee assumes the role of a driving force, propelling forward and generating linear momentum through the lower body. This motion paves the way for a crucial separation between the upper and lower body, maximizing power potential. This juncture marks the complete transition to a rotational movement, where the entire body collaborates to generate peak force.
This biomechanical approach allows players to tap into energy sourced from the ground up, employing their legs to yield torque that seamlessly transforms into a whip-like motion through the torso. This intricate dance culminates in a bat trajectory that remains on a consistent plane, resulting in an optimal launch angle upon contact with the ball. By leveraging these scientific tenets of hitting, athletes can continually enhance their power and maintain consistency during impact.
So, what makes the Hitters Power Drive effective? This training tool elucidates proper weight distribution and the fluid transfer of weight from the initial load position to the backside hip and leg drive – termed the "positive move" position. It employs a multisensory approach with an auditory "CLICK" feedback, coupled with a kinetic sensation. The timing of this auditory cue guides hitters to initiate power using their back hip, leg, and foot, ensuring a forward power drive as opposed to spinning out, drifting, or losing balance. The metal sound of the plate striking the ground plate provides immediate real-time feedback, reinforcing proper technique and fostering improved hitting mechanics.
Baseball Hitting Mechanics with the Hitters Power Drive
Discover more about the art of baseball hitting mechanics and how the Hitters Power Drive refines the transition from linear to rotational hitting, fostering a positive angle approach. The accompanying video serves as a visual guide, illustrating the desired form.
FACTS
Teaches Proper Weight Transfer
Teaches not to squash the bug
Auditory and kinetic feedback
Free members to only online training website
Patented Product
5 Year Warranty 
Made 100% in the USA with USA Steel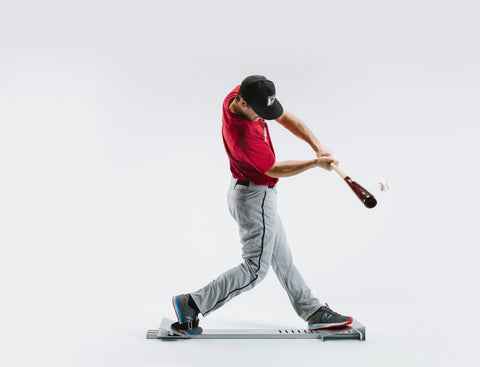 HITTERS POWER SWING
"If a hitter starts swing properly with their hips, it will set them up for more success throughout the entire swing".  It is important for a hitter to get into proper positions throughout their swing.  Let's review these essential movements:
Ø Starting from proper athletic stance with knees slightly bent and angled slightly inside the feet
Ø Load to stride, the back knee should be driving down in direction of the baseball as front heel plants into the ground
Ø Creating maximum upper and lower body separation at foot plant in order to maximize hip torque.
Ø Back hip should start swing towards baseball while transferring weight through the front foot
Ø At impact position back elbow should be in line with hips with front arm close to chest, while back knee is still down and front leg fully extended
Ø These linear to rotational forces create a strong extension to finish
The ABCA 'Best of Show "HITTERS POWER SWING"
BUY
Hitting Mat
HITTERS POWER DRIVE CHALK MAT: Black turf for visually presentation of training with chalk lines, marks, circles, X's and written goals. Includes 2 large pieces of sidewalk chalk. Thick 4″ bright red line sewn into turf on all mats for important pitchers & hitters stride line. Step down rubber that simulates game mound drive foot position to increase pitchers power drive. . All mats available in FOAM BACKING with skid pad for hard surfaces such as wood, cement or tile or FLEECE BACKING for indoor carpet or turf surfaces. Hitters Power Drive mat has water jet cut insert hole to level HPD with front foot to face live pitching speeds. Turf plug included to use mat without Hitters Power Drive .
Heavy duty 100% USA construction. Extremely thick and dense turf mat. Spike proof 36 oz. turf weight per square yard. Weight is 109 oz. per square yard with height of turf height at 3/4 inch. Built to last for all ages, youth through professional.Backing is made for indoor carpet or turf surfaces.
BUY